Madogga: One of History's Biggest Dicks
From Dickipedia - A Wiki of Dicks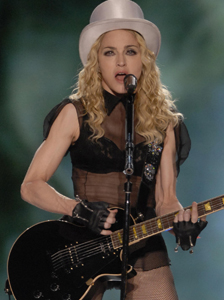 Madonna Louise Ciccone Ritchie (born August 16, 1958) is a recording artist, an "actress", a provocateur, a blasphemer, and a dick.

The Recording Industry Association of America ranks Madonna as the best-selling female rock artist of the twentieth century with over 200 million albums sold worldwide and there's just no way anybody can sell that many albums without being a gigantic dick.

Madonna's unique style of dickishness is at the cross section of two dick categories: Dicks Who Desperately Crave Attention and Dicks Who Sleep Their Way to the Top. Her hobbies include marrying, divorcing, offending the church, acquiring children in various ways, and wearing weird cone-shaped bustiers that are meant to be sexy but are really just frightening.
Early life
Madonna was born in Bay City, Michigan on August 16, 1958, a birthday she shares with fellow annoying middle-aged dick, Kathie Lee Gifford. She was the third of six children, which likely planted the seeds for a life of begging people to pay attention to her. After her mother died, her father married the family housekeeper, which probably helped screw her up real good too.
Madonna attended both St. Frederick's Elementary School and St. Andrew's Elementary School, giving her enough working knowledge of the Catholic church to properly denigrate its most cherished symbols years later. She also laid the groundwork for a lifetime of promiscuity by joining the cheerleading squad at Rochester Adams High School, which lead to a dance scholarship from the University of Michigan. However, she left her collegiate dance studies in 1977 for the glitz and glamour of New York City and a day job at Dunkin' Donuts.
Sleeping her way into music
Not particularly satisfied as a backup dancer for French disco singer Patrick Hernandez, Madonna hatched a lifelong career strategy of sleeping with men who could help her career. Her initial rise to stardom from mattress to mattress can only be described as pure dick genius.
First, she dated musician Dan Gilroy, who helped form her first rock band, the Breakfast Club. Then she dated drummer Stephen Bray, who helped her write and produce dance songs that became popular in New York clubs. Then she dated DJ/producer Mark Kamins, who helped her get a record deal with Warner Bros' Sire Records. And then she dated DJ John "Jellybean" Benitez, who remixed several tracks on her first album Madonna, helping to create the hits "Borderline," "Lucky Star," and "Holiday."
Once her music career was launched, Madonna began using her mouth primarily for singing and cranked out hit after hit in the 1980s including "Like a Virgin," "Material Girl," "Into the Groove," "Papa Don't Preach," and other songs 38-year-old women still sing to themselves when they're driving to work. But even more than her mindless dance songs, it was Madonna's lace tops, fishnet stockings, and bleached blond hair showcased in her music videos that made her an icon amongst young girls seeking ways to mildly rebel to against their parents.
Sleeping her way into movies
Despite achieving fame as a "musician," Madonna's dickish need for attention could only be satisfied by silver screen stardom. However, when the best she could do was play a thinly veiled version of herself in Desperately Seeking Susan, Madonna reverted to her former tried and true strategy. In 1985, Madonna dated actor/dick Sean Penn, immediately reaping the benefits by co-starring with him in the feature film Shanghai Surprise. After marrying then quickly divorcing Penn, the best role she could get was another thinly-veiled version of herself in Who's That Girl, named after the song she had to record for the movie's soundtrack before she was allowed to act in it.
Madonna was soon dating middle-aged heartthrob Warren Beatty and co-starring in his movie adaptation of the comic book Dick Tracy. Sure, her character of slutty singer Breathless Mahoney was yet another thinly-veiled version of herself, but this was a huge movie that people all over the world saw, so it was okay.
In 1991, Madonna turned her "sleeping her way to the top" strategy on its ear and, instead of using sex to get cast in a movie, she cut out the middle man and simply made a movie about sex. While this documentary film, Truth or Dare, was technically a behind-the-scenes look at her Blond Ambition world tour, it will forever be known as "that black and white movie where Madonna makes out with her gay backup dancers and gives a blowjob to a water bottle.
Controversy = Attention
In 1987, Madonna's use of religious symbolism in concerts caused headlines around the globe when Pope John Paul II urged Italian fans to boycott her Who's That Girl tour. That was also when Madonna learned the second most important dick rule of her career: controversy = attention. In 1989, she adhered to this rule when she signed an endorsement deal to debut her new "Like a Prayer" video in a Pepsi commercial, then made sure the video featured enough stigmata and burning crosses to be condemned by the Vatican as well.
In 1990, Madonna scored a Double Dick Whammy when she released her greatest hits compilation, The Immaculate Collection, with two new songs: "Justify My Love" and "Rescue Me." Aside from the fact that it's always a dick move to make fans who already own all your albums buy a greatest hits collection by cramming two shitty new tracks into it, the music video for "Justify My Love" intentionally featured enough sadomasochism, bondage, same-sex kissing and nudity to be banned from MTV.
Madonna was on the top of her attention-whoring game for her Girlie Show tour in 1993 where she dressed as a dominatrix and rubbed the Puerto Rican flag between her legs while on stage in Puerto Rico. An Honorable Dick Mention goes to her appearance on the Late Show with David Letterman later that year when she swore at Letterman and then asked him to smell her underwear.
In 1992, Madonna founded her own company, Maverick, as part of a $60 million deal with Time Warner. She immediately went about grabbing more controversy-inspired attention by releasing a book of sexually explicit pictures of herself and the sex-themed Erotica, which ranks as one of her least successful albums.
Not whoring it up = Attention
In 1996, Madonna grabbed attention with a dickishly cunning piece of reverse psychology. Rather than continuing to release near-softcore pornography, she portrayed Eva Perón in the movie Evita. Critics were so confused by her lack of whoring it up that she ended up winning a Golden Globe for Best Actress and an Oscar for Best Original Song.
Having a baby = Attention
On October 14, 1996, Madonna found her most dickish way to get attention yet when she gave birth to a baby girl fathered by fitness trainer Carlos Leon, with whom she promptly broke up afterwards.
Sleeping her way into London
Growing tired of the attention from her home country, Madonna plotted to find a new international home base from which to draw eyeballs. In 1999, she found the perfect man to sleep with that would make that possible: British film director Guy Ritchie. Wasting no time, she gave birth to their son, Rocco in 2000. After marrying Ritchie later that year, the two moved to Marylebone, London where Madonna gave birth to a silly fake British accent.
As a bonus, this relationship landed Madonna another movie role in Ritchie's 2002 film Swept Away. However, the film was a box office and critical failure and was actually released straight-to-video in her home country, the UK. This meant the days were numbered for their marriage and the couple finally announced their divorce.
Desperately seeking attention
In the current chapter of Madonna's life and career, she's been grasping at straws, doing anything to stir up even the smallest bit of attention from a world that has moved on to other promiscuous pop stars:
In 2003, Madonna kissed Britney Spears and Christina Aguilera during the MTV Video Music Awards, not realizing that the only thing more mainstream than appearing on the MTV Video Music Awards in 2003 was a girl-girl kiss.
In 2006, Madonna wore a crucifix and Crown of Thorns on her Confessions tour, leading even a Protestant bishop to comment that her now-cliché blasphemy was "the only way an aging superstar can attract attention."
In October 2006, Madonna adopted a young boy from Malawi, ignoring the law that required would-be parents to reside in Malawi for one year while also taking advantage of the boy's biological father who didn't understand what "adoption" meant.
Madonna recently defended her Kabbalah studies by stating it "would be less controversial if I joined the Nazi Party."
*****The KBH*****